What Is A TFSA?
A TFSA is a government-registered account that allows you to grow your savings tax-free. Any Canadian resident 18-years or older with a valid Canadian Social Insurance Number can open a TFSA. It's also a multi-purpose account that lets you hold savings as well as higher interest-earning investments.
Unlike an RRSP, which is not meant to be accessed until your retirement, a TFSA allows you to withdraw your savings if the need arises, without paying tax. Plus, you can re-contribute the amount of your withdrawal the very next year.
TFSA Options
Unlike an RRSP, TFSA contributions are not tax-deductible.
A TFSA is perfect for:
Building a financial cushion

Growing your money tax-free

Saving for short and long term goals or projects

Saving for retirement beyond the RRSP contribution limit
What Investment Products Can I Put In A TFSA?
Your TFSA can contain the following investment products and accounts, where you pay no tax on interest earned, income, dividend, or withdrawals:
Guaranteed investment certificates (GICs)

Cash (Investment Account*)

Mutual funds

Treasury bills
Bonds

Equities

Exchange traded funds

High-interest savings account
Below are ways to invest your funds either as a self-directed investor or with professional assistance.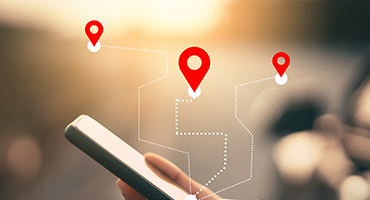 An in-branch advisor can help you get started. Book an appointment online, by phone, or in-person at a branch.
Personalized Advice
Our dedicated wealth advisors will provide personalized financial plans to keep your financial goals on track.
Online/Mobile Investing
Self-manage your investments through Qtrade Direct Investing™ or get them professionally managed through VirtualWealth®.
Contribution Room
You can make regular contributions to your TFSA throughout the year. However, it is your responsibility to make sure you do not go over your maximum yearly contribution limit. Any unused contribution room is carried forward from previous years. For example, if you've never contributed to a TFSA before, you can contribute up to $88,000 in 2023.
The TFSA contribution limits start accumulating once you turn 18 years old. Any over-contributions are subject to penalties and interest. 
2023 Annual limit: $6,500
2023 Cumulative limit: $88,000
Calculate How Much You Can Save
While there are limits to the amount you are able to contribute, you can make tax-free withdrawals at any time for any purpose. Learn how easy it is to grow your savings with a tax-free savings account.
How Does a TFSA Differ From an RRSP?
Primary Use: TFSAs are typically considered a multipurpose account used to save for short or long-term goals e.g. a car, travel, or house. RRSPs are typically used to save for retirement. 
Eligibility: You must be the age of the majority in your province or territory of residence to open a TFSA. Anyone in Canada that has a valid SIN, files a tax return and earns employment income can open an RRSP. 
Unused Contribution Room: Your unused contribution room is carried forward for TFSAs and RRSPs.
Withdrawals: You can withdraw money any time, tax-free from a TFSA. RRSP withdrawals are taxable, subject to certain exceptions.
Withdrawn Amounts: Funds withdrawn from your TFSA are added back to the following year's contribution room. Your contribution room is lost for the amount you withdraw from an RRSP - this is subject to certain exceptions. 
Taxation: Contributions made to your TFSA are not tax-deductible. RRSP contributions are tax-deductible. This means any contributions you make may reduce the amount of tax you pay on your personal income.
Plan Maturity: An RRSP matures at the end of the calendar year in which you turn 71. There is no maturity age limit for a TFSA.
Spousal Plan: You can contribute directly to a spousal RRSP. There are no spousal TFSAs.
You May Also be Interested in
| | |
| --- | --- |
| | Mutual funds and related financial planning services are offered through Credential Asset Management Inc. Online brokerage services are offered through Qtrade Direct Investing, a division of Credential Qtrade Securities Inc. Qtrade and Qtrade Direct Investing are trade names and trademarks of Aviso Wealth. Qtrade Guided Portfolios is a trade name of Credential Qtrade Securities Inc. Aviso Wealth Inc. ('Aviso') is a wholly owned subsidiary of Aviso Wealth LP, which in turn is owned 50% by Desjardins Financial Holding Inc. and 50% by a limited partnership owned by the five Provincial Credit Union Centrals and The CUMIS Group Limited. The following entities are subsidiaries of Aviso: Credential Qtrade Securities Inc. (including Credential Securities, Qtrade Direct Investing, Qtrade Advisor, Qtrade Guided Portfolios and Aviso Correspondent Partners), Credential Asset Management Inc., Credential Insurance Services Inc., Credential Financial Strategies Inc., and Northwest & Ethical Investments L.P. |